(FYI....first couple of Who I Am's are in the sidebar)
I've started this particular post 3 different times. It's just so hard to begin describing some of the most intense years of my life. God crammed so much learning, stretching and growing into those years. It's hard remembering it all. It's hard to allow myself to feel some of those emotions that had me broken. It's hard to even know where to start.
I was a wide-eyed, confident freshman coming into pre-season. I had scored many goals during high school and club soccer, I could get around my fair share of defenders and could send up a mean corner kick if necessary. I had high hopes for my college career. It started off well. I loved pre-season. Two and sometimes 3 a day practices, getting to know my teammates, playing well, scoring goals, earning respect. I practiced with the starter team and everything. I remember one day we were working on positioning and one of the upper classmen leaned over and whispered "I bet you're gonna start". I shrugged and blushed, but secretly got super excited.
(we always dressed crazy and rode on the firetruck through town during homecoming)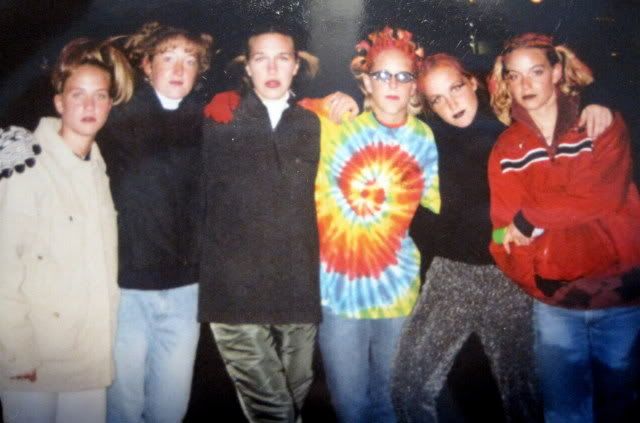 And then, ya know, I'm not sure what happened, even now, I'm kind of stumped about the sudden detour my playing time took. The first thing I remember is not being able to play in the first game because of paper work or something? And then I got banged up twice during some intense practices. Cleat to the calf while being slide-tackled by a teammate. Caught on the bottom of a 3 person pile up during a one on one "to the goalie" drill (killer bees). (sprained my hip flexer…had to take icebaths).
(me and seiffert....my roomie for two years)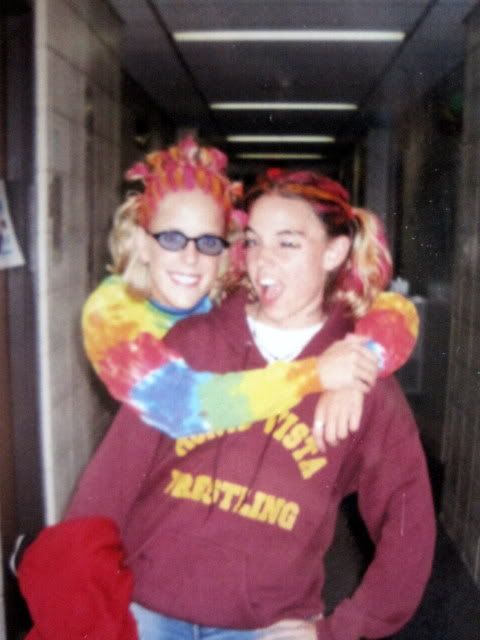 Bottom line is, I think coach started losing respect for me. (I should mention that the coach who recruited me and gave me a scholarship ended up leaving IWU right before my freshman year) I don't know if I stopped playing the way I knew how, or what, but I do know my confidence was starting to fade, I felt intimidated and just not quite good enough. I think the clincher was when I asked if it was cool if I skipped practice to go pick up my boyfriend from the airport…..yea….not a good idea.
(me and goody)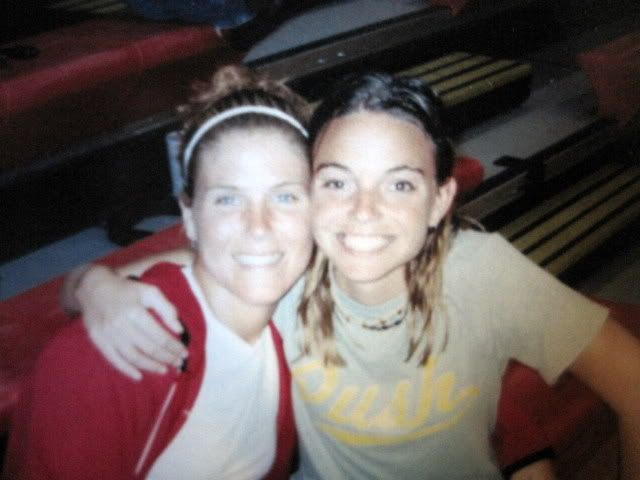 From then on I pretty much rode the bench for three years straight. I mean, I subbed for people, and if I was lucky, I would get in a solid 30 or 40 minutes. Even scored a handful of goals in there somewhere. But Oh how I missed playing 90 minutes, how I missed being relied upon and looked up to on the field. And it was so humbling standing on the sidelines….cheering on my team….trying to maintain a good attitude….trying not to tear up because i was so wanting to just GET IN THERE.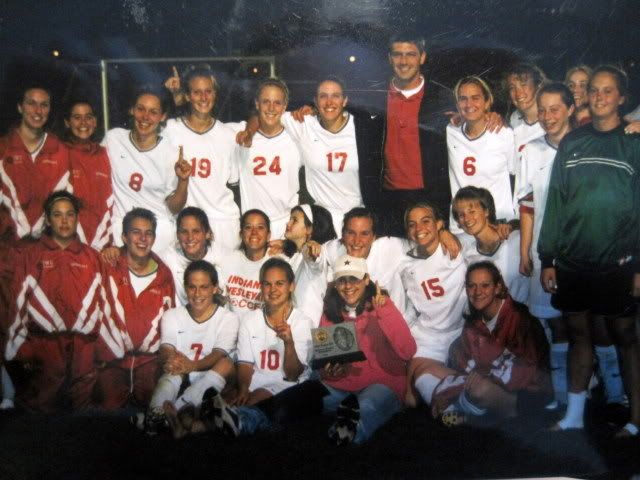 I was blessed with some AMAZING leadership on the team. Women who were practice players, who had such a sense of JOY about them, so servant-hearted, so humble, incredible work-ethic…. and these women taught me what it meant to give soccer to God. And that playing soccer (or not playing) is simply a tool that God desires to use to make us more like Him. (and that all sounds good and well….but it was HARD)
In the midst of all of the craziness of soccer (the practices, the traveling, pre-seasons, tournaments, spring season, ect., ect., ect.), I was having a blast (seriously) going to classes, studying the Bible, getting to know my professors and other students in my majors. I double majored in Christian Education and Adolescent Ministries and minored in Inter-cultural studies. Because of the combination of the classes I had to take for my major, I was ALWAYS in a sweet class with a stellar prof.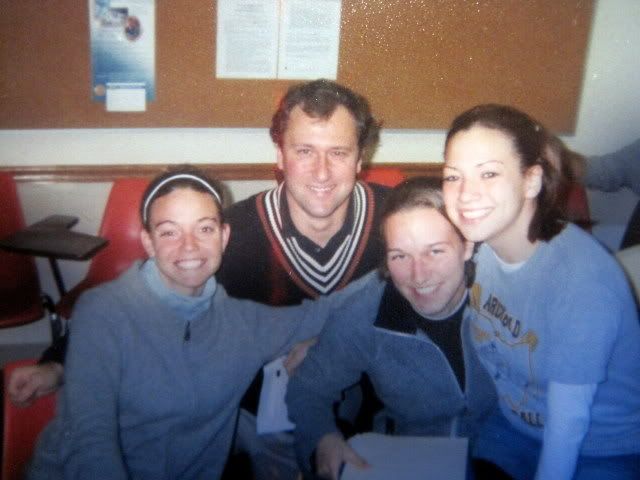 I studied the epistles with Ken Schenck, wrote 4 books (seriously BOOKS) for Keith Drury, learned Church History from Bud Bence, wrote exegesis papers for Dave Smith and I could go on and on. The religion department was packed full of guys who didn't just know the Bible from front to back, but they lived it too. One of the highlights of growing in my knowledge of who God was and how to truly study the Bible, comes from a Sunday school class lead by Steve Lennox. He took 30 or so college students through Exodus and it was "blow your mind" amazing.
Soooooooo, i was playing soccer, studying HARD…..and dating/breaking up with my highschool sweetheart David Houle.
(in my dorm room, the first time he visited)

Oh, there was drama….and not just drama but SERIOUS HEART ACHE during college over this on again/off again relationship. He broke up with me for the first time OVER THE PHONE the night before our first game my sophmore year. I was a mess that entire first semester. (have you ever thrown up because of emotional stress??? Yeah, sucks.)
But God used it, oh man did He use it.
My eyes were opened up for the first time about His will. I read the last part of 1 Thessalonians chapter 5 over and over again for like 3 months. God's will wasn't about who I married or what job I had….it was about HOW I LIVED MY LIFE. This was astounding as a sophomore in college…I was soaking it up HARD CORE.
(me and rals...we played highschool and college soccer together! plus we were roomies in townhouse 518 my senior year)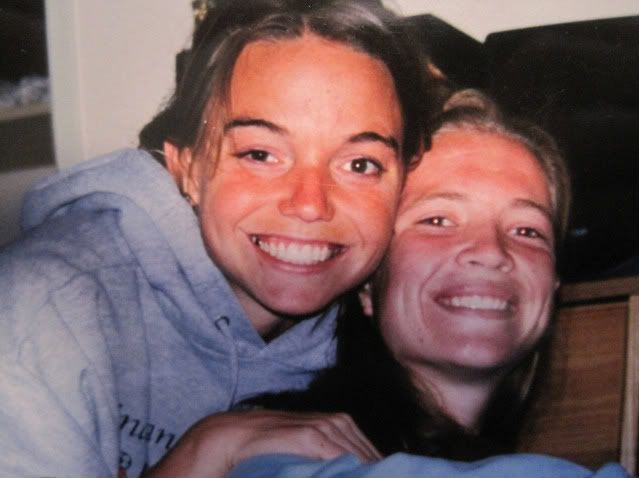 And my Faith? Oh my faith grew. I remember being drawn to all of the stories about someone having faith and then being healed as a result of it. "Your faith has healed you" "Your faith has made you well" These stories in the gospels were breathing life into me. I had an active role in my relationship with God, my Faith could CHANGE things. WOW oh WOW! I remember how excited I was to be learning so much, to be clinging to God in the middle of soccer being so hard and Dave breaking my heart. My God was a ROCK during all of that. (I have to mention how much time I spent with Sarah and Jesse…they were my lifeline….i did laundry there, I cried to sarah about my relationship with Dave, they made me food, they let me help them put up Christmas décor. They got me through some of my roughest emotions about soccer and dave…..Sarah will ALWAYS, ALWAYS, ALWAYS hold a special place in my heart because of those 3 years)
Went to Cambodia for 3 weeks in-between my sophomore and junior year.
(our team on the plane :))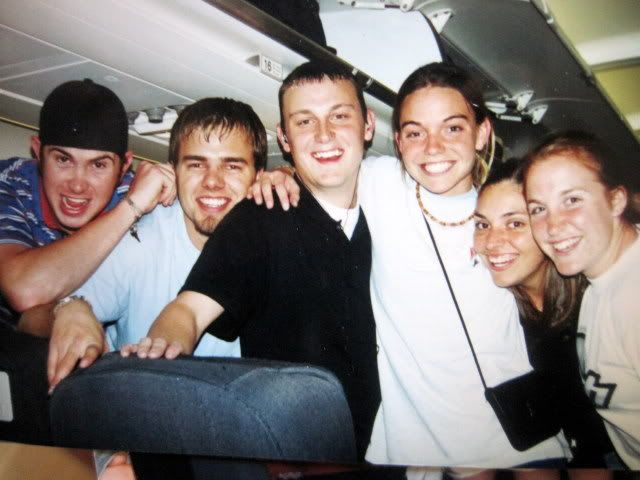 Loved it. Life changing in so many ways.
Did an internship at Vanguard in-between my junior and senior year. Fell in love with that church, those pastors and those kids. Prayed that God would bring me back there :)
K-senior year. Our team that year? Well, we were so unified, we had a blast together, we prayed together. We were just in the zone and it was fun. We had a new coach, I was starting and was a team captain with Rudy and Merilee (my closest friends in college)….was playing well and loving it.
(apparently we decided to do a mud mask??)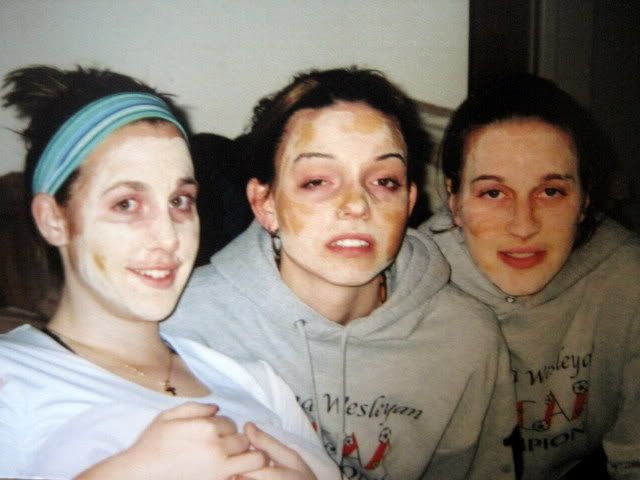 (THEY WERE NOT REALLY SMOKING....JUST BEING CRAZY....wanted to show off our bleached hair...we did this during the entire season our junior year)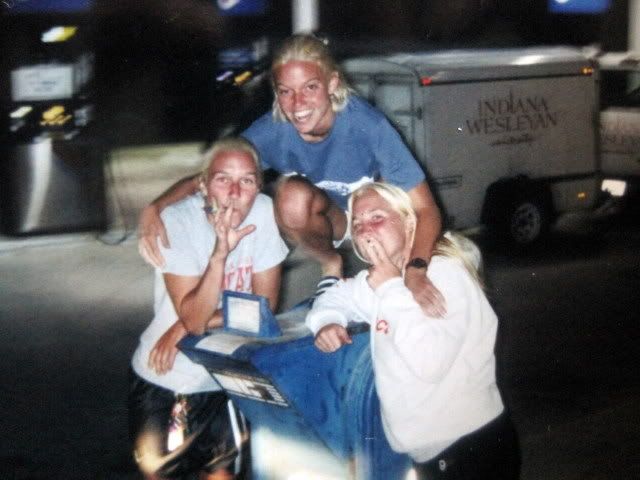 (right after we lost our very last game our senior year)

4th game of the season. We were playing Goshen and it was like the 11th minute or something. My foot was planted and #5 slidetackled me. My foot stayed planted, but my knee didn't.
Torn ACL.
Surgery.
Physical therapy.
Out for the season.
(after i tore my acl, rudy would wear my jersey underneath her jersey....at the end of every game she would rip off her jersey so that #15 was represented on the field. i know....she's the best!)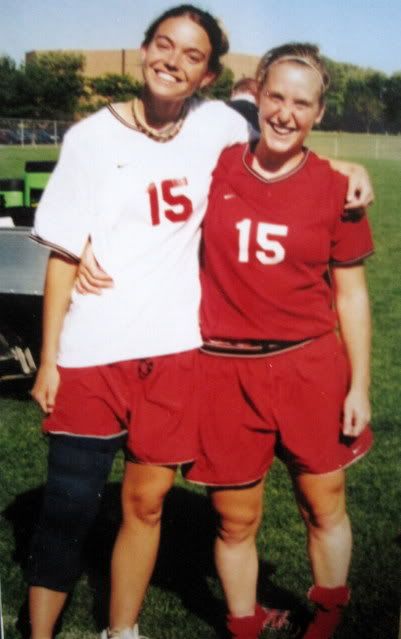 And even though tearing my acl during the 4th game of the season during the ONLY year that i was starting totally sucked, I would still have to say that it was my favorite semester of College. BY FAR. Relationships and classes and finishing up my degree and….. it was just so fun being on that team. IWU women's soccer fall of '02.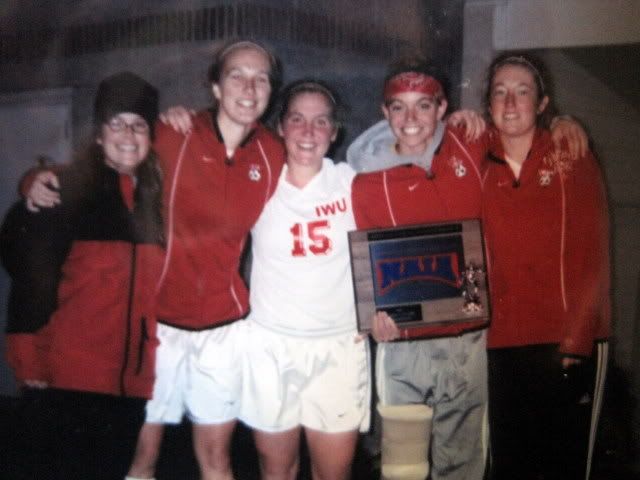 There was just something incredibly special about it.
Graduated that December.
Moved back to Colorado Springs.
Goodbye IWU.