there were three reasons why i thought our third child would be born early.
avery was early.
ashton was early.
and he was measuring
bigger
than both of them the whole pregnancy.
because of those reasons i was eagerly anticipating the start of labor as early as 3 weeks ago.
i would have contractions on and off, but not
the real kind.
after i hit 39 weeks, i would wake up in the night with some stronger contractions and i was even losing some of my mucous plug (tmi, i know)
but i just kept going to bed pregnant and waking up pregnant.
(you women who go weeks past your due date are amazing to me. the mind and emotions get warped in those last days)
fast forward to sunday morning, september 12th. i was having more rythmic contractions by mid-morning, but they were spread apart and i could easily hide them. because i thought my 3rd baby would come quick if labor did indeed start, i decided to go ahead and have my mom come to get the girls just in case.
the rest of sunday was very hard and very frustrating. contractions, yes....but they never were getting closer together. i would randomly have an "intense" one and then the next several would be mild.
sunday night: go to bed pregnant
monday morning: wake up pregnant.
we were keeping Merrie (our mid-wife) in the loop on sunday and so monday morning when things hadn't progressed she came over and swept my membranes and gave me some herbal "start up". This all happened a little before 12 and by 1 i was in labor.
full fledged, side laying, deep moaning, can-i-do-this-again?,
labor.
merrie and "the team" (candace and louise) arrived and i got into the tub immediately.
i still felt in control at this point, but
barely
. some of the contractions made me want to push which got my hopes up real quick. i wanted merrie to check me, tell me i was almost a 10, and within minutes of pushing this sweet boy out.
they had me move positions to check me.
(moving positions in the hardest parts of labor feels impossible. you find a position, you some how figure out how to manage contractions in that position and you think "maybe, just maybe i can get through this" and then someone tells you to move and it freaks you out and you feel out of control again)
so, i have a STRONG contraction in a DIFFERENT position, WHILE merrie is checking me and she says that i'm at a 7.
then i threw up.
at this point i feel
extremely
out of control and just want someone to take this child out of me.
merrie got down on her hands and knees right in front of my face, grabbed my hand and prayed. and boy did i need that. it centered me again. got my mind focused again. and somehow i managed to get through the next hour and a half of this whole ordeal.
before i tell you the rest of the story. you need to know what we found out right as he was being born. his head was sideways.
(this very much could be the reason why i had lots of contractions with no real labor until merrie kind of urged it along)
we didn't know his head was sideways so the next hour and a half were VERY hard, VERY confusing, and VERY frustrating.
it took forever to get to a 10 because his head wasn't engaged right. it took forever to push him out because of that same problem.
merrie and candace and louise did an amazing job leading me through this. but....IT. WAS. AWFUL.
i had to get out of the tub because ian's little heartbeat wasn't responding well while i was in the water.
i had to get in many, many positions. hands and knees, on my side, on my back, one leg up.....craziness.
and the whole time my mind and my heart were going crazy. why was this taking so long? why was i having to move in so many positions like i did with avery? i pushed ashton out in 8 minutes after i was at a 10.....why am i reliving a "first born" birth? what is wrong?
and all the while dave's hands were right there. one putting deep pressure on my lower back. one squeezing my hand and reassuring me with his strong, quiet words "you are doing this, you are doing amazing, he's close, he's so close"
and then, he was here and we all instantly knew why the last hour and a half was so LONG and so HARD.
that darn sideways head.
homebirth is amazing you guys.
this team is amazing. they are family to us.
they were so strong for me, so confident for me.
confident in my body.
confident in the ONE who created me.
confident in the ONE who created Ian.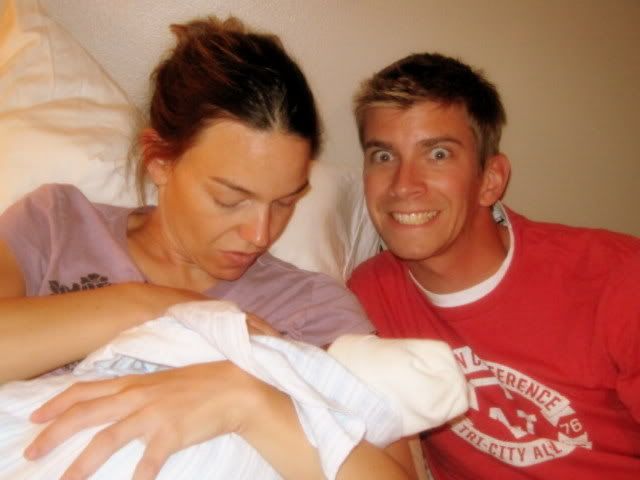 and he was born in our home, in our room, in our bed.....just like his sisters.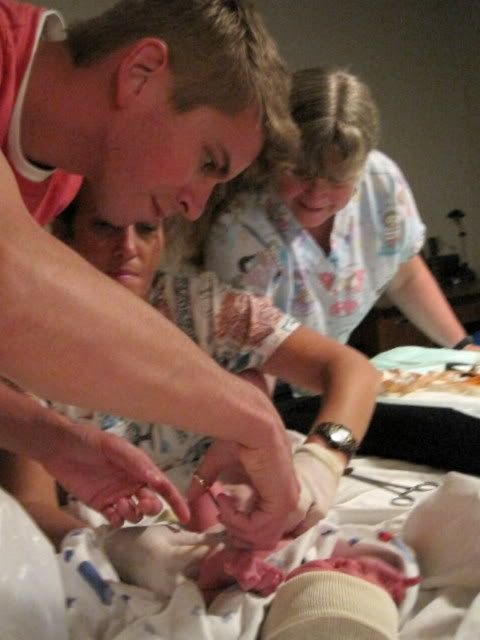 (i love this picture of us, i think we were watching his newborn exam)

6:59 p.m. on monday, september 13th
8 pounds 12.5 ounces
22 inches long
14 and 3/4 inch head (merrie says this is a BIG head, and i would strongly agree with her :))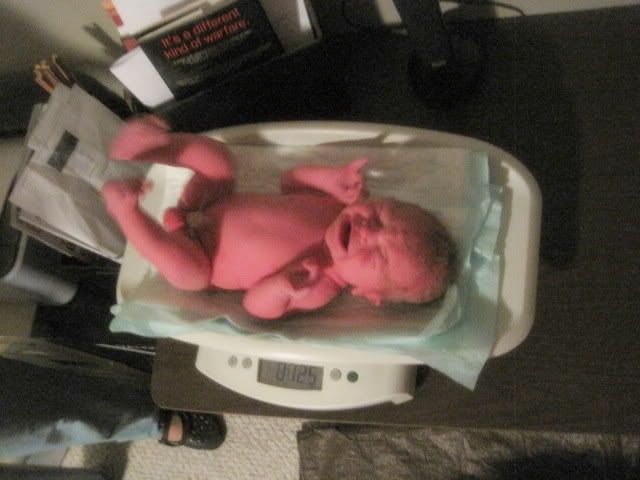 and now? now i'm sitting here with my sweet newborn and i have no c section scar. my abdomenal muscles are still in tact. and this may be tmi, but i didn't even tear. yep, merrie is awesome.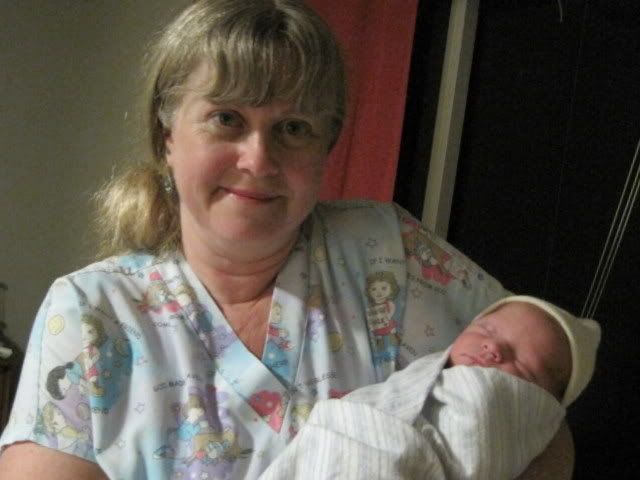 (the girls have been great. avery is lovin this little brother thing. ashton is a little tenative, but still seems like her sweet self. the grandma's have been amazing as usual)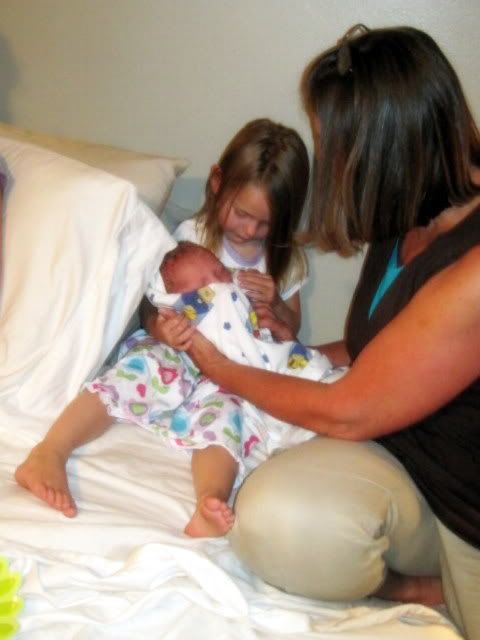 Thank you Lord for Ian David. Thank you for giving me the strength and the courage to bring him into this world. Ian's name means "God is Gracious" and You are Lord, You are so gracious to us. Your grace was upon us even in the darkest moments of this labor and I am so thankful and amazed by Your active presence in our lives. You are to be praised. May the story of Ian's birth always point people to the graciousness of Your hand.