i've gotten a handful of questions about how we do preschool, curriculum we use and ideas that i get, so i've decided to start documenting the ins and outs of our preschool mornings. hopefully it'll be helpful to some of you and most importantly i hope it reveals how simple it is, how i don't really do
that
much and how most of it is just basic stuff that you're probably already doing with your kids.
know this: your floors are probably cleaner and your cooking skills are probably far superior to mine.
it's simple. i love the feeling after our couple of hours of focused learning and playing, though sometimes i dread actually doing it.
so here goes.
from today.
circle time
. avery sets out our "mats" we sit and read a story from the
Jesus Story Book Bible
, pray, and go over
our rules and their verses
avery teaches ashton.
this takes all of 5 minutes. right now we are working on shapes and colors with ash and we switch between this shape puzzle we have and these lacing bead things that we have. basically, avery holds up a shape and says "this is a red star" "can you say red star, ash?" and then ashton tries to say red star while running around or pulling books off of the shelf or something. after she teaches ash she puts a sticker on that box on her chart.
letters.
we did 2
horizon workpages
on the letter H, flashcards and
hot dots.
bible.
she is really into acting stories out these days, so for the most part we just act out the story we read during cirlce time. today was when john baptized Jesus and if you could only hear how avery says "baptized" it would make you smile.
art.
we fingerpainted the river jordan (blue) and heaven opening up (yellow) when Jesus was baptized and the love (red hearts) coming down from God the Father on His Son.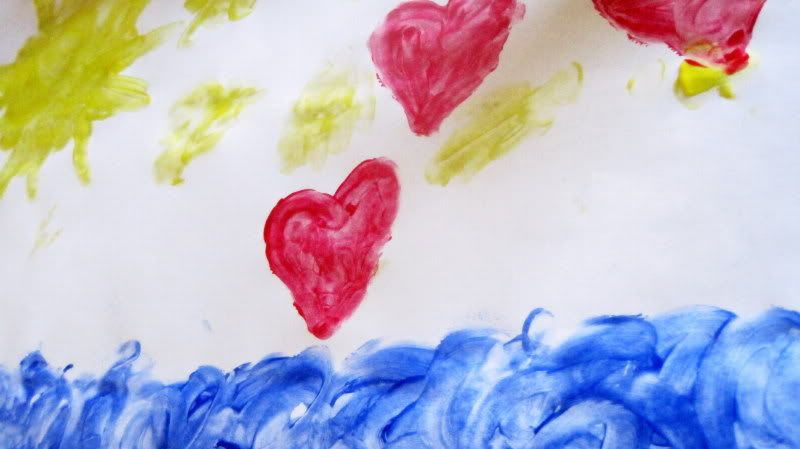 (after she finishes each "subject" she gets to put a sticker on the appropriate box on her chart....filling up her chart means red robin! :))
so that's what we did today. it took close to two hours. seriously no big deal.
now, if you want to see some
real
creativity in the world of homeschooling.
check
THIS
out.