preschool on monday
do a dot letters
how our prayer chart works:
pick something out of the basket and pray for what color you get.
red-Praise God with your words. Tell Him something you love about Him.
orange- Ask God a question.
yellow- Ask Him for forgiveness.
green- Pray for your friends and family.
blue- Pray for the world.
she loved this. probably because we're finally able to do preschool outside!
i wrote the 7 letters avery struggles with on these stones and then she stood at the other end of the yard, as soon as i yelled a letter she'd run and stand on that letter. after she got them right she'd say "mom, say "you got a gold star.""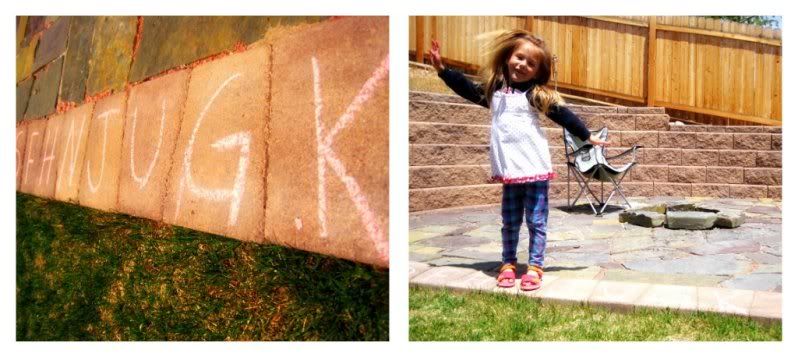 "You got a gold star aves!"
--------------------------------------------------------------------------------------------------------------
we had some long time friends over last night. friends we hadn't seen in close to a year, back when we both were pregnant, her with lilly, me with ian. anyway, you won't believe what they are doing. the crazy life change that they are about to embark on.
it's crazy.
they're crazy.
and i LOVE it. go read about what they're about to do
HERE!
and then today, at mops, i find out that a chick at my table is moving her family to central america so they can learn spanish and volunteer and be together more. her husband quit his job; they head down there in july. and my jaw drops and all that comes out of my mouth is "you are so cool."
the american dream is slurping and sucking and swallowing up the life inside of us. can you feel it? these two families are sure that they were meant for more. that their dreams don't rise and fall with their iras. and that God is calling them out. away from normal, away from security and toward a Hope that this life, this here and now life, is meant for a purpose that is eternal.
may it be true of me too.